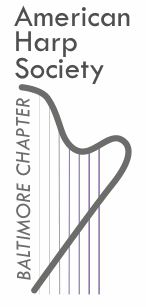 AHS Baltimore Board
Jacqueline Pollauf, President
Lori Fleming Peters, Vice President
Stephen Belcher-Saunders, Secretary/Treasurer
Website, Julia Martin Frazier
Become a Member
Send Membership Inquiries to:
Please send Dues to:
Stephen Belcher-Saunders, Treasurer
42 East 26th Street
Baltimore, MD 21218
$20 Regular Membership
$10 Students
CHECKS PAYABLE TO:
AHS, Baltimore Chapter
Membership Benefits
Your support will help sponsor recitals and master classes by local, national and internationally acclaimed harpists and teachers. Our chapter is dedicated to educational music outreach, and membership helps us attain this goal. Membership also grants you access to listings on our website, and discounted prices for ticketed chapter events.